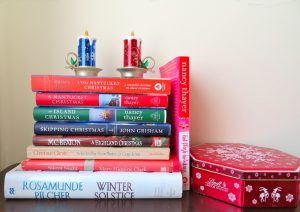 December is my favorite month of the year. Christmas with all its excitement arrives, along with friends and family. The house smells wonderfully of pine and cinnamon. Plus, it's nice and dark and cold out so I get to stay inside and read!
Here are some of my favorite holiday books:
Winter Solstice by Rosamunde Pilcher. Set in a country village in Scotland, this novel is as delicious and comforting as a mug of hot chocolate.
Skipping Christmas by John Grisham. No tree or Christmas lights for the Cranks. They're going on a Caribbean cruise. Or are they? This is not a Grisham mystery, but a funny holiday tale. I only recently learned that it was made into a movie called Christmas with the Cranks. I'll wait until after the December rush to watch it!
A Highland Christmas by M.C. Beaton. Beaton's mysteries star a lanky, red-haired, laid-back and rather yummy police constable named Hamish Macbeth in the west highlands of Scotland. This series is great fun, and my friends and I are still hoping that Hamish will end up with Priscilla from the castle . . . This very cozy mystery has charming illustrations, too.
Silent Night by Mary Higgins Clark. All right, I confess. I'm a mystery addict and Clark is a perennial favorite. This cozy tale set around Rockefeller Center involves a crime, a family, and faith.
A Christmas Carol by Charles Dickens. It's always a joy to read about Tiny Tim and stingy Scrooge and I get teary every time I read the last line: God Bless Us, Everyone!
And of course, my favorite Christmas books are A Nantucket Christmas and An Island Christmas, written by someone who truly loves Christmas—me. Both books involve family joys and woes and a miracle here and there.
A Nantucket Christmas is at the home of a newly married couple and includes an adorable, abandoned dog, a very pregnant young woman, and a needy ex-wife. An Island Christmas has a wedding, an ice floe, and a cantankerous cat. The paperback, A Very Nantucket Christmas, includes both books. Next, I'm thinking about writing a Christmas novel with a horse in it!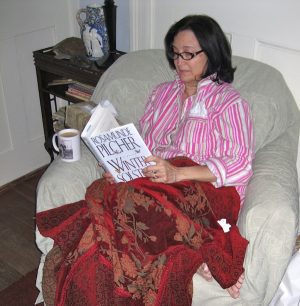 P.S. No, I didn't knock my hot chocolate off the arm of the chair! 🙂
Save
Save