Our beautiful ocean looks like the surface of the moon today, and the wind is howling.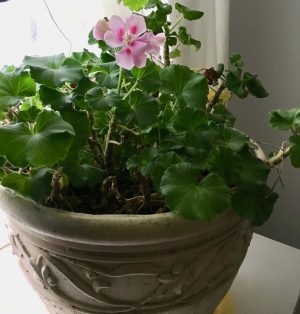 Inside, my valiant and ancient geraniums stay happy in the windows for their tenth year.
My maple abutilon is flowering and its leaves feel like velvet. But It's crooked. I'm working on that.
I'm also putting together a new bookmark with sketches by my extraordinarily talented friend, Sara Prentice Manela.
I'm workng on my new novel, and wondering why it is my glasses all seem to congregate in the same place when I intend for them to be in their own places.
Of course I'm reading. Isn't this the perfect cover for a winter's day? I confess I got it on my ereader. I couldn't bring myself to leave the house. (I couldn't bring myself to leave my robe.)
And I'm certain that a cup of hot chocolate is in my very near future.